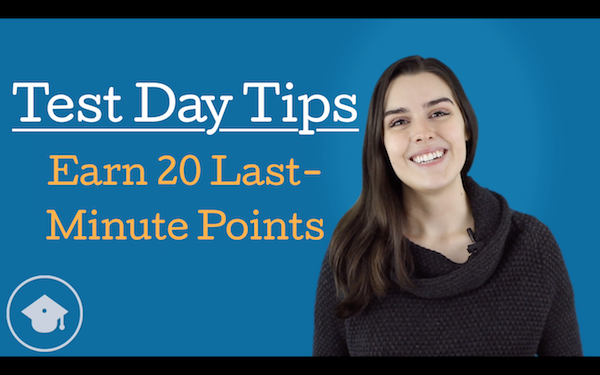 If your GMAT test day is coming up, you're hopefully wrapping up your prep, taking your last practice exam, and resisting the urge to do any night-before cramming (trust me, it doesn't work). But what about the test day itself? How can you make sure that you're ready when you walk in the testing center so none of your hard work goes to waste? Is there anything else you can do to improve your score, even as late as the morning before the test?
In "GMAT Test Day Tips — Earn 20 Easy Points Last-Minute", we walk through some last minute GMAT tips that will help you make the most of the morning before the test.
The first set of GMAT test day tips focus on waking up before the test. Getting out of bed isn't enough to be alert for your test. We walk through specific steps you can take on your GMAT test day to wake up your body and your brain to ensure you're doing your best work. For example, doing a practice test the morning of the GMAT will wear you out before you reach the testing center, but going into the test cold is a sure-fire way to work slowly and make mistakes. This video will tell you exactly how much practice to do on GMAT test day to get your brain in gear.
The second set of last minute GMAT tips revolve around reducing your GMAT test anxiety. Staying calm during the test is important, but being calm before you go into the testing center is even more critical. We explore actionable strategies you can use to reduce your stress the morning before the test and start your GMAT test day strong. For instance, everyone knows that a good night's sleep before a big test is important, but sacrificing an hour of sleep to wake up early can actually be beneficial — watch the video to learn why!
Remember: while these last minute GMAT tips can easily earn you extra points, there's no substitute for preparing adequately for the content on the test and for the testing experience. However, if you've put in the effort in your GMAT prep, these GMAT test day tips will ensure that nothing but the test questions are standing between you and your goal score!
Not sure how or what to study? Confused by how to improve your score in the shortest time possible? We've created the only Online GMAT Prep Program that identifies your strengths and weaknesses, customizes a study plan, coaches you through lessons and quizzes, and adapts your study plan as you improve.
We believe PrepScholar GMAT is the best GMAT prep program available, especially if you find it hard to organize your study schedule and don't want to spend a ton of money on the other companies' one-size-fits-all study plans.
To stay updated on our latest GMAT videos, you can subscribe to our new PrepScholar GMAT YouTube channel — we'll have three new free videos every month.
Happy studies, and good luck on your GMAT test day!
Was this helpful? Sign up for FREE GMAT and MBA guides!