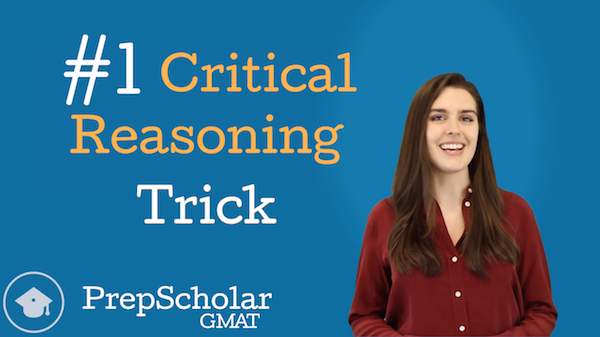 An incredibly common trap that test takers fall into on GMAT Critical Reasoning problems is answering the wrong question. Like how Reading Comprehension wrong answer traps are designed to mimic the wrong part of the passage (check out our #1 Reading Comprehension Trick video for more on this), GMAT Critical Reasoning wrong answer traps are designed to answer good questions about the passage and its topics — just not the question that is actually being asked.
This is further complicated by the fact that many Critical Reasoning GMAT questions are written using confusing or vague language that require interpretation to figure out exactly what you're supposed to be looking for. So how can we be sure to answer the right question on GMAT Critical Reasoning problems?
In "#1 GMAT Critical Reasoning Trick: What's the Question?", we walk through the top trick for avoiding classic wrong answer traps on Critical Reasoning GMAT questions: putting the question into your own words, making sure to clarify any vague language.
Watch the video to see how we use this trick to solve a real GMAT Critical Reasoning problem!
For more quick Verbal tips, check out the videos for our #1 Reading Comprehension Trick and our #1 Sentence Correction Trick!
Not sure how or what to study? Confused by how to improve your score in the shortest time possible? We've created the only Online GMAT Prep Program that identifies your strengths and weaknesses, customizes a study plan, coaches you through lessons and quizzes, and adapts your study plan as you improve.
We believe PrepScholar GMAT is the best GMAT prep program available, especially if you find it hard to organize your study schedule and don't want to spend a ton of money on the other companies' one-size-fits-all study plans.
To stay updated on our latest GMAT videos, you can subscribe to our new PrepScholar GMAT YouTube channel — we'll have three new free videos every month.
Happy GMAT Critical Reasoning studies!
Was this helpful? Sign up for FREE GMAT and MBA guides!